One way to understand how the stock market works is to look at how it was built throughout time. As a dividend growth investor, I focus on picking shares from strong companies that show several growth vectors. I want to make sure those companies not only paid dividend in the past, but that will also continue to pay and increase it in the future.
I started investing in 2003. This gives me 15 years of investing experience including 2 bull markets and only one crash. I've followed the techno crash on my computer while I was working on my bachelor's degree in finance, but that doesn't really count as I had no money invested back then.
I remember feeling that my first investments weren't growing fast enough for me. A high single-digit to low teens return each year didn't appear that impressive back then. Today, I understand that the path through dividend growth investing is a long hike through the mountains. Sometimes you go up, sometimes you go down. It's important to take pause and admire the nature. Eventually, you will rise to the top and feel like a king. But that takes lots of time and effort.
I thought of looking at 3M Co (MMM) over the past 30 years to give younger investors a perspective of what is looks like to be a long-term focused investor.
1988 to 1998
Stock price on December 31st 1987: $15.52
Quarterly dividend: $0.133/share
Stock price on December 31st 1997: $41.03 (+164%, 10.19% CAGR)
Quarterly dividend: $0.265/share (+99%, 7.12% CAGR)
Source: Ycharts
Founded in 1902, MMM was already an old company in 1988. The 80's were marked by a very important innovation:  the famous Post-It was created in 1980 and offered in multiple colors in 1985. MMM was getting to enter into the "new world" with its first internet website in 1995. In 1996, the company's data storage and imaging divisions were spun off as Imation Corporation.
As you can see on the graph, MMM also benefitted from the tech bubble lift-up. Shares went up from mid $20's in 1995 to close to $50 in 1997. In the meantime, MMM never missed an occasion to reward its shareholders with consistent dividend increase.
1998 to 2008
Stock price on December 31st 1997: $41.03
Quarterly dividend: $0.265/share
Stock price on December 31st 2007: $84.32 (+105%, 7.44% CAGR)
Quarterly dividend: $0.48/share (+81%, 6.11% CAGR)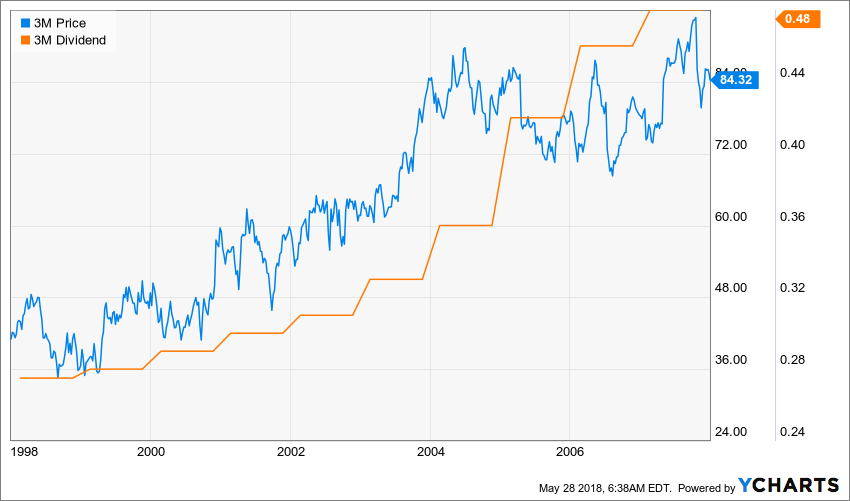 Source: Ycharts
The stock went sideways along the rest of the market going through the tech bubble, the Enron fraud and the World Trade Center attack. In 2004, boosted by several innovations, 3M tops $20B in sales. The company introduces many upgraded products such as Post-it® Super Sticky Notes, Scotch® Transparent Duct Tape and optical films for LCD televisions.
At that time (mid-2000), the stock surges and so is the dividend. While it was a good decade, MMM performances on the market weren't as good as they were 10 years ago. Is the company done with innovation? Is it a sign MMM will finally slow down? Let's continue our time travel story…
2008 to 2018
Stock price on December 31st 2007: $84.32
Quarterly dividend: $0.48/share
Stock price on December 31st 2017: $235.37 (+179%, 10.81% CAGR)
Quarterly dividend: $1.175/share (+145%, 9.37% CAGR)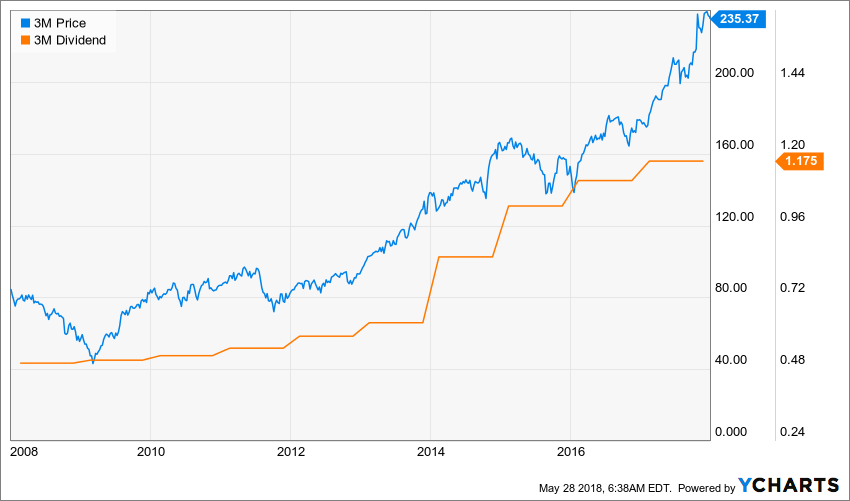 Source: Ycharts
2008 arrives and the stock drops back to nearly $40. All of a sudden, 10 years of stock market returns disappear. Thanks to all those dividends, 3M shareholders still have a reason to smile. Nonetheless, new investors don't find it very funny. However, in 2013, 3M tops $30 billion in sales and the stock is back on track. A year later, 3M registers its 100,000th patent and proves itself as being the innovation company it always been.
Believe it or not, MMM posts its strongest decades in 30 years. Keep in mind the stock lost about 50% of its value in the first 12 months of the decade, and yet, finished 200%+ up if you include dividend payment!
Final thought; stay invested!
Over the last 30 years, both MMM and the rest of the stock market went through many great periods and several challenges. When you look at each graph, you will see how MMM was dead money for a few years and then offer a big boost. A similar trend could be seen with its dividend policy. But overall, MMM posted high-single digit stock return and dividend growth rate for each decade. Long-term investors have passed through all those storms and ended-up with amazing results: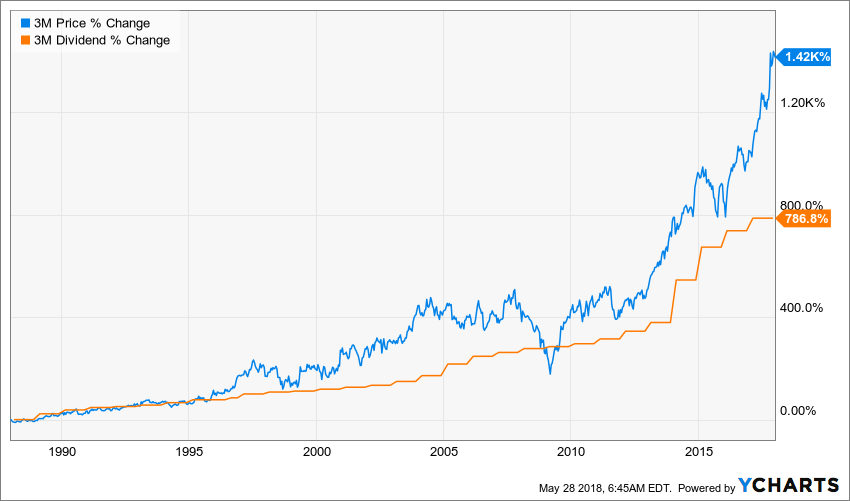 Source: Ycharts
In then end, it doesn't matter the price you pay; just pick strong companies and they will reward you decades after decades.
Obvious disclaimer… long MMM