This Dividend Aristocrat is among retirees' favorite stocks. However, AT&T (T) has disappointed millions of shareholders by not increasing its dividend last December.
No dividend growth, high yield, those are red flags. An absence of dividend growth is the first step toward a dividend cut. Should you love or hate this 7%+ yielder?
Let's review the business and discuss how safe the dividend is!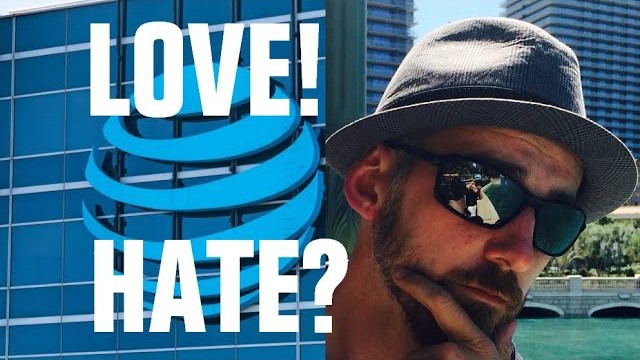 Business Model
Wireless communication remains AT&T's largest business, contributing nearly 40% of revenue. As the second-largest U.S. wireless carrier, AT&T connects more than 100M devices, including 63M postpaid and 16M prepaid phone customers. The consumer and entertainment segment (about 25% of revenue) includes the consumer fixed-line and DirecTV satellite television businesses, serving 20M television and 14M Internet access customers. WarnerMedia now contributes a bit less than 20% of revenue with media assets that include HBO, the Turner cable networks, and the Warner Brothers studios.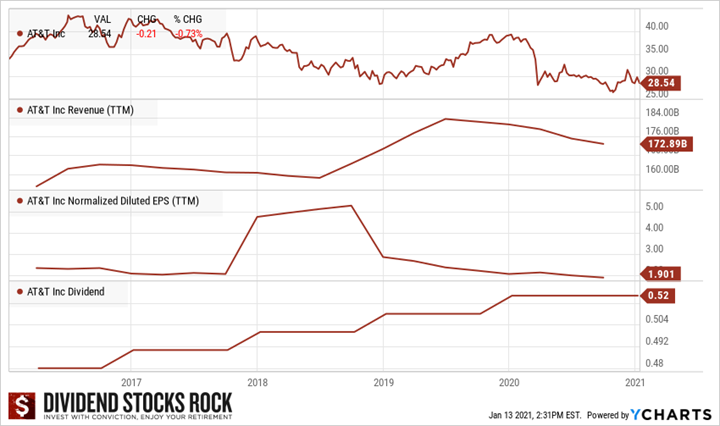 Investment Thesis
AT&T doesn't need a presentation. It is the largest telecom in the world by revenue. With over $200B in revenue, a 7% yield, and a long dividend growth history, the big T is a favorite among income seekers. Really, what's not to love? Unfortunately, we can fairly say that the stock's performance hasn't impressed anyone in the past 5 years. Even by including its juicy dividend payout, T's investment return lags the market. The problem is that T requires significant cash flow to shift its business (find growth vectors), expand its 5G network, and continue rewarding its shareholders. Considering the low stock price, T's cash flow generation capacity, management's focus on paying down debt and improving its streaming offerings, we see T as a great addition to anyone's portfolio for 2021.
Potential Risks
There are a few reasons why AT&T offers such a high yield. First, the company must generate lots of cash flow to support new technologies (5G deployment), maintain dying technologies (wired lines), pay down its huge debt, and rewarding generously their shareholders. AT&T will also deal with customers whose budgets have been hurt by COVID-19. AT&T is also trying to sell DirecTV as this division has nowhere to go. This was a terrible acquisition. This is not a perfect solution, but the stock is priced accordingly.
Dividend Growth Perspective
At first glance, T's dividend profile looks very good. High yield with consistent increases sounds perfect. However, looking at the dividend growth rate, things are by no means perfect. Over the past decade, T's annualized dividend growth rate is 2.21%. Over the past 5 years, it goes down to 2.12%. T didn't increase its dividend in 2020 which is a source of concern. We expect the company to pay down debt and invest in HBO streaming services. If this is their plan moving forward, we can forgive a dividend growth pause for a year or two.
Is the Dividend Safe?
If they look at the payout ratio, dividend investors will start to run (around 135%)! However, with T's growth by acquisition model, it is only normal. In this case, the cash payout ratio tells a lot more and looks healthy at 53%. Cash Flow is also very strong with a CFFO of 45B$ and debt is slowly going down. I pushed my analysis further in the video right below. Still, you can consider the dividend safe.
Final Thoughts
Funny enough, I used to hate AT&T because of its low returns, higher debts, and risks. I still don't hold the stock, but there are many positive things about the company, including the fact that it's a cash machine as a dominant player in the wireless industry.
The telecom must increase its dividend in 2021 to keep its Dividend Aristocrat title. A dividend cut would be catastrophic. Management would have to have serious problems to go down that path. Considering AT&T's metrics and business model, I highly doubt this would happen. You can sleep well; I'm confident AT&T will increase its dividend next December.
I even included T in my yearly top picks for the first time since 2012!
You can download 6 of my top 20 for 2021 right here: